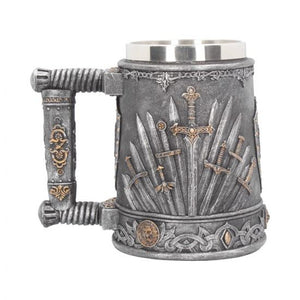 Give a gift fit for a King with this amazing Sword of the King Tankard.  The mug is decorated with a fan of swords, of varying hilts and blades, on each side. On the opposing sides a small shield sits with a medieval Eagle in the centre, surrounded by golden studs. The lower part of the Tankard is decorated with thick patterns, small golden jewels and discs that feature the snarling face of a lion, which contrasts to the more intricate detail around the top. The handle is made from the hilts and guards of two swords, connected with a decorative sheath. The details on the Tankard are highlighted with a golden hue that contrasts to the pewter base colour.
At the top, the rim of the removable stainless steel insert can be seen. Cast in the highest quality resin before being hand-painted.
This is a weighty tankard at just over 1kg!