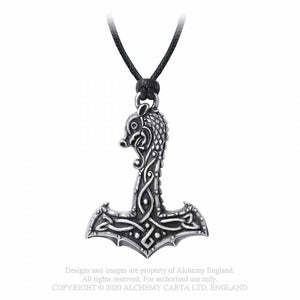 Drakkars, the great tenth century Viking longships built for raiding parties and ornately carved, especially with ferocious dragon's heads.
A 2" long antiqued pewter Viking hammer pendant with Celtic carved knotwork and dragon's head.
On black waxed cord, 32' (81cm) overall and with black pewter slide fastener for adjustment. Packaged in an Alchemy branded bag, including Alchemy Guarantee and care instructions.