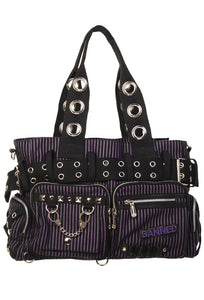 black and purple pinstripe shoulder bag from Banned apparel
The bag has a large main inside compartment in which there is a zippered pocket as well as a phone pocket
On the front side of the bag there are two large zip compartments, straps, eyelets, studs, chains and even mini handcuffs
On the left and right sides of the bag there are two further zip compartments.
At the back of the bag there is a very large fold closure.
Comes with an adjustable shoulder strap.

Material: cotton, polyester  Dimensions: 40cm x 14cm x 27cm