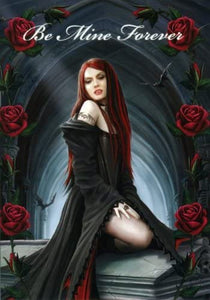 Anne stokes 'await the night' Be mine forever, design greetings card

Fantasy Artist Anne Stokes has added a romantic twist to her well loved gothic vampire painting, 'await the night' and here it is presented as a Valentine Card!
On the inside is a fainter blue toned image of one of a skull cross with "true love never dies" entwined around the cross. The message inside the card reads "Happy Valentine's Day"
The envelope is also designed by Anne Stokes and features her Kindred Spirits green dragon design.

Card Size - 170 x 125mm