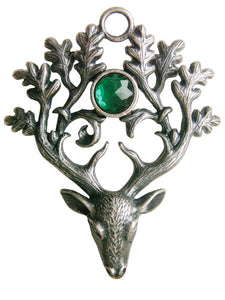 Lord of the Greenwood, the primeval Stag watches over all forest dwellers. No harm, material or magical, will come to those who wear his symbol and hold him in their hearts.
For Protection & Defense. Approximate Size: 2 1/8" x 2"
Each pendant is crafted from non-allergenic lead-free alloy, some feature spell-binding crystals, each pendant is presented in a green silken pouch with a black thong.
A leaflet with empowerment ritual and full description and explanation of each pendant's individual, magical benefits is included.