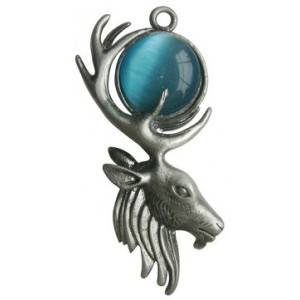 The mighty stag is crowned with the lunar orb of the Empress of Night. In the ancient forest, the stag's antlers - like the spreading branches of the Greenwood - reach tall and wide with life force.  For Mystical Power. Approximate Size: 2" x 1"
Each pendant is crafted from non-allergenic lead-free alloy, some feature spell-binding crystals, each pendant is presented in a green silken pouch with a black thong.
A leaflet with empowerment ritual and full description and explanation of each pendant's individual, magical benefits is included.
these are back in stock, however the blue gem has changed to blue enamel so we need a new stock picture to reflect this