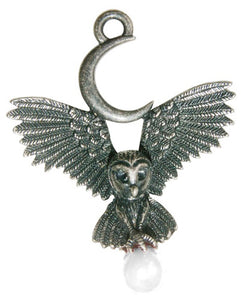 A whisper of shadow, soft wings in the dusk, the owl warns of approaching danger and sharpens inner and outer vision. Under a crescent moon, wise and wild, she flies swift through the Greenwood to capture the truth.  For Awareness & Knowledge. Approximate Size: 1.75" x 1.33"
Each pendant is crafted from non-allergenic lead-free alloy, some feature spell-binding crystals, each pendant is presented in a green silken pouch with a black thong.
A leaflet with empowerment ritual and full description and explanation of each pendant's individual, magical benefits is included.