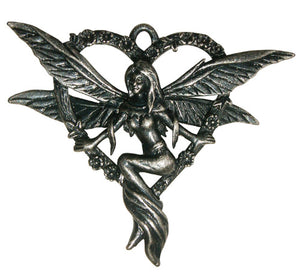 The Elven clans, sylvan and shimmering, seal magical charms in garlands of everlasting woodland flowers. They encourage the pure of heart and allow their energy to be summoned. For Happiness & Love. Approximate Size: 1.75" x 2"
Each pendant is crafted from non-allergenic lead-free alloy, some feature spell-binding crystals, each pendant is presented in a green silken pouch with a black thong.
A leaflet with empowerment ritual and full description and explanation of each pendant's individual, magical benefits is included.