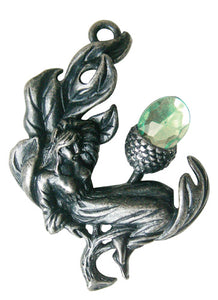 Woodland gardeners, the acorn sprites gather and plant the Oak tree's seeds where they will thrive, and so maintain the woodland balance. As allies to humans, they will lend their green fingers to Fertility & New Beginnings. Approximate Size: 1.75" x 1.33"
Each pendant is crafted from non-allergenic lead-free alloy, some feature spell-binding crystals, each pendant is presented in a green silken pouch with a black thong.
A leaflet with empowerment ritual and full description and explanation of each pendant's individual, magical benefits is included.