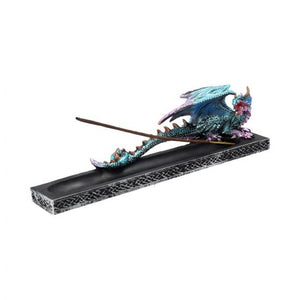 Spread the scent of a Dragon's breath with the Incense Guardian incense burner. Lying on the ground, a Blue Dragon rears their head up to roar, large teeth showing. Their large blue wings are raised high as their tail stretches across the ash catching plate.
Cast in the finest resin before being carefully hand-painted, this would make the perfect addition to any alternative home! 28cm long

Large tray to catch the debris from the incense stock.
Celtic patterns surround the side.