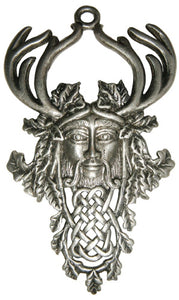 Herne, in great Greenwood forest at Windsor, lives as horned hunter of mystical strength and honour. In legend, he saved the life of the English sovereign and evermore is honoured for fair play and upholding order.  For Justice and Respect. Approximate Size: 2.33" x 1.5"
Each pendant is crafted from non-allergenic lead-free alloy, some feature spell-binding crystals, each pendant is presented in a green silken pouch with a black thong.
A leaflet with empowerment ritual and full description and explanation of each pendant's individual, magical benefits is included.