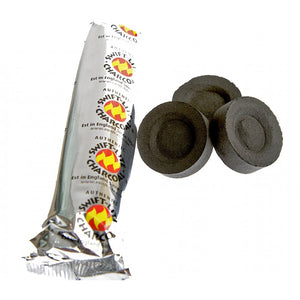 These Charcoal tablets are ideal for burning resins, herbs, incense granules or hookah/shisha. 
To use is easy, light an edge and blow till it lights across the complete surface, it stays lit until it has burnt out. Each clean burning charcoal piece will last up to 60 minutes. Ensure that you place the charcoal tablet on a heatproof or ceramic surface and dispose of safely when fully cooled.

Box contain 8 tubes with 10 charcoal each tube.