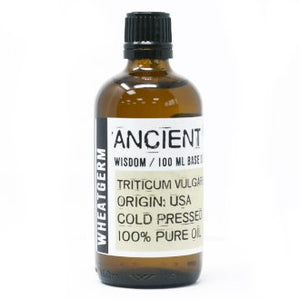 Botanical Name: Triticum Vulgare.
Origin: USA
Colour and Smell: Its colour ranges from clear orange to yellow in colour, the smell is a little strong, and wheaty
Texture: Very Rich (not suitable as a base for massage oils)
Wheatgerm Oil is a great source of Vitamin E, which is an anti-oxidant. So not only is it great for your skin but can also act as a natural preservative for your massage oils and blends. In aromatherapy, the oil is very good for many skin issues.
Applying wheat germ oil to the inflamed or irritated skin has been a popular practice for generations. Due to the high levels of tocopherols (such as vitamin E) in this oil, it is able to nourish the skin and stimulate blood flow to speed healing, which can also eliminate inflammation and any swelling in the affected areas. This makes the oil an effective remedy for psoriasis, eczema, and various other common skin conditions.
before adding a potent oil to your health regimen, it is best to speak with a doctor.