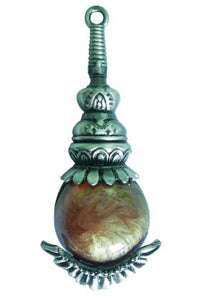 Saptaratna Stone -For Spiritual Wealth
The shining jewel purifies the heart and represents all the treasures of Buddhism. Known as the "wish granting stone", it is said to satisfy sincere desires.
The ancient teachings of Prince Siddharha Gautoma have inspired the mysterious artist, Briar, in designing this stunning and meaningful jewellery collection
Lovingly crafted from lead-free pewter and set with sparkling crystals, these pieces come with a black waxed cotton cord and are presented in a golden satin gift pouch.