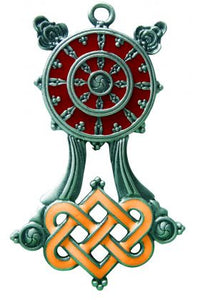 Buddhist Wheel - For Continual Learning
Most ancient of Buddhist symbols, the eight-spoked Dharmachakra wheel crowns an endless knot, and evokes every symbol and teaching of Buddhism.

The ancient teachings of Prince Siddharha Gautoma have inspired the mysterious artist, Briar, in designing this stunning and meaningful jewellery collection.

Lovingly crafted from lead-free pewter and set with sparkling crystals, these pieces come with a black waxed cotton cord and are presented in a golden satin gift pouch.