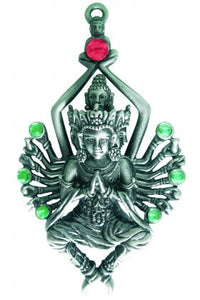 Blessed embrace - For Protection

Avolokiteshvara leads seekers towards enlightenment. All-seeing eyes and a thousand embracing arms lend comfort and help to each in their struggle.
The ancient teachings of Prince Siddharha Gautoma have inspired the mysterious artist, Briar, in designing this stunning and meaningful jewellery collection
Lovingly crafted from lead-free pewter and set with sparkling crystals, these pieces come with a black waxed cotton cord and are presented in a golden satin gift pouch.