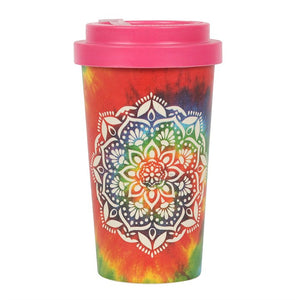 This eco-friendly, reusable travel mug is made out of durable bamboo fibre and comes with a matching silicone sleeve and lid for keeping hydrated (and caffeinated) on the go.
This colourful style features a rainbow tie dye print with white mandala design

Bamboo is one of the fastest growing plants in the world. It is a hardy plant that requires no fertiliser and little water. It also self-generates from its own roots so it doesn't need to be replanted!
Convenient stopper to prevent accidental spills. 
Dishwasher safe mug with hand wash only lid and sleeve.
Do not microwave.
H15cm x W9cm x D9cm
 These BPA-free eco bamboo products are made of 40% sustainable bamboo fibre, 40% resin and 20% corn starch.