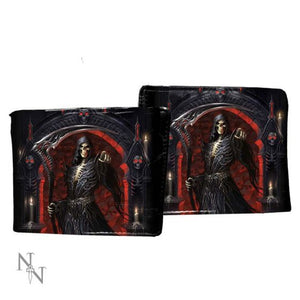 From the twisted mind of Gothic Fantasy master James Ryman. In front of a glowing red crypt, packed with skulls, the grim reaper stands, black robe covered with a metallic exoskeleton. One hand holds a cruel Gothic scythe and the other points directly at you. The crypt portal is framed with stone skulls, the eyes glowing red. With the same design on the back, this spacious and stylish Wallet is a good way to show the world that you don't fear the reaper while keeping your cash safe. 11cm
Plenty of space for your cash and cards


Multiple slots for cards.